'Spring is in the Air' - Spring 2021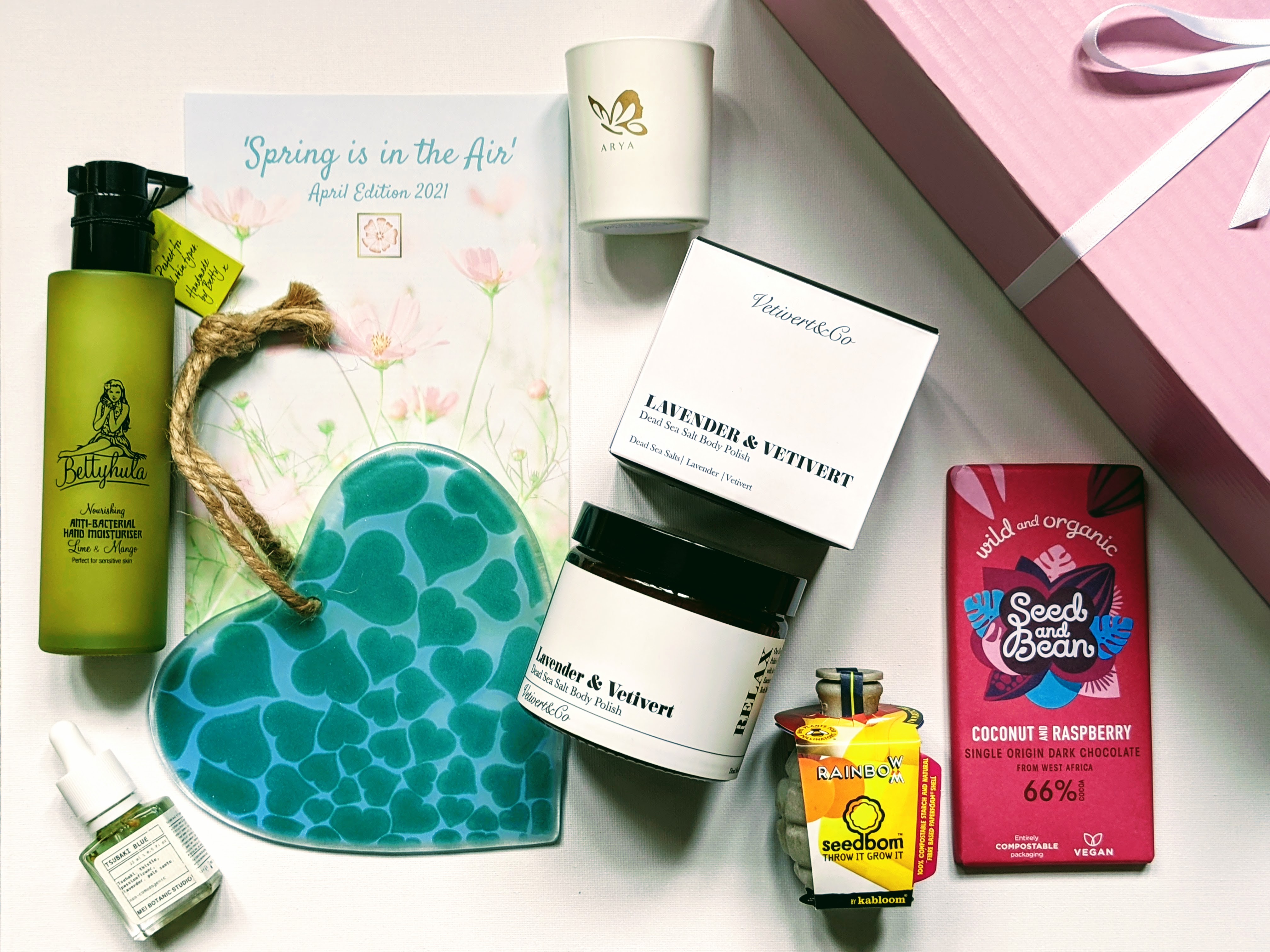 Our very first 'Spring is in the Air' box contained 7 gorgeous items.  With a retail value of over £85, the box features:
1.  A beautiful fused glass hanging heart, handmade by Stephanie at Morpheus Glass. 
2.  A nourishing, anti-bacterial handcream from Betty Hula Skincare.
3.  A dead sea salt scrub, handcrafted by the gorgeous Aanu at Vetivert & Co. 
4.  A super, lightweight, fresh and fruity facial oil from the simply modern apothecary at Mei Botanic Studio. 
5.  A lovely scented candle, handmade by Lina & Jenny at Arya Candles. 
6.  We couldn't resist these wildflower seedboms - a brilliant idea imagined and brought to life by the amazing Darren at Kabloom. 
7.  A delicious raspberry and coconut chocolate bar by Seed & Bean for that extra indulgent treat!
You can still purchase this box by clicking HERE. 
'Summer Vibes' - Summer 2021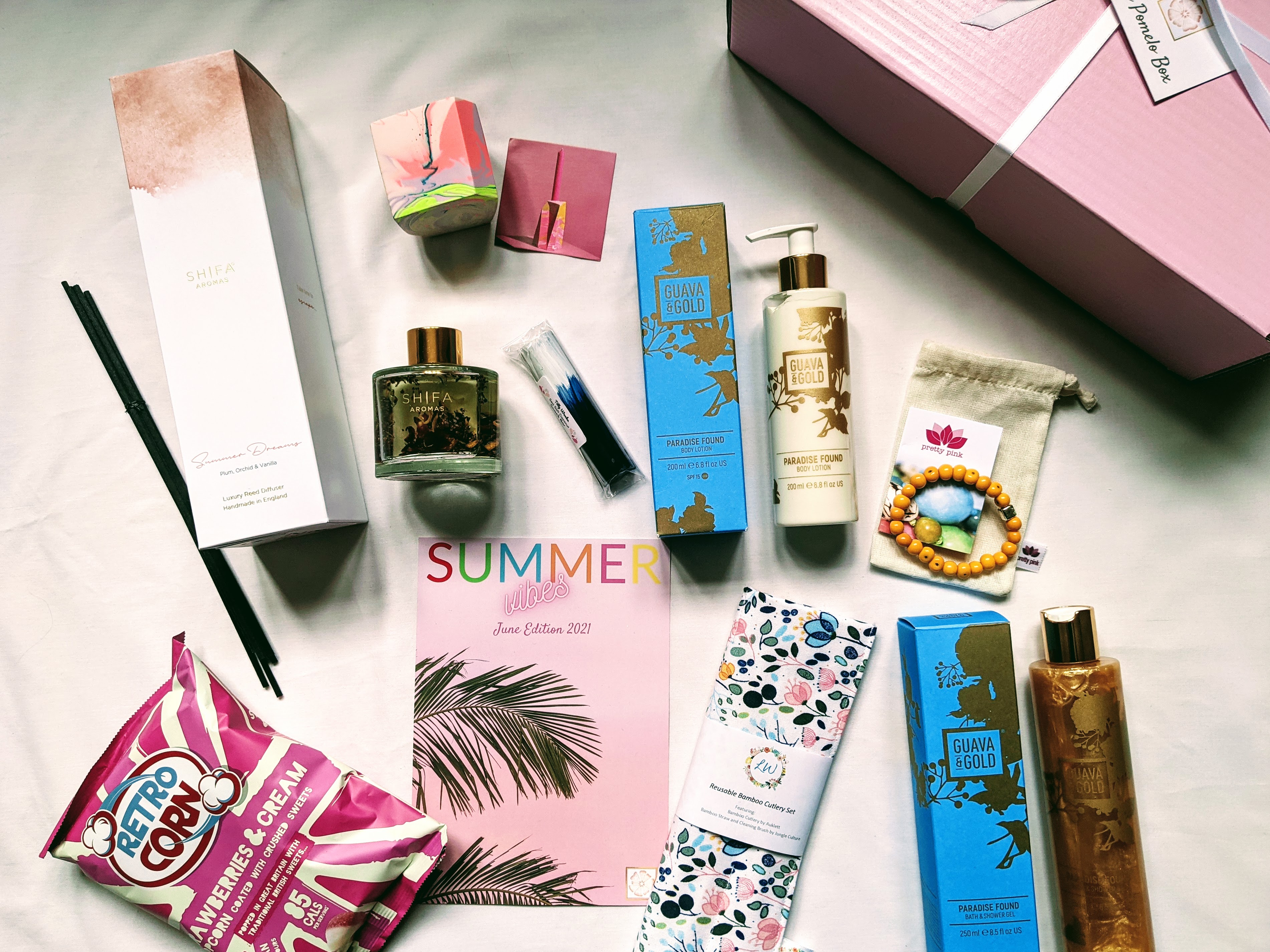 The 'Summer Vibes' box contained 8 fantastic gifts, worth over £116!  This box featured: 
1.  A luxurious bath/shower gel by Guava and Gold 
2.  An opulent body lotion by Guava and Gold
3.  A luxury reed diffuser by Shifa Aromas 
4.  A bamboo cutlery set handmade by Linda at LW, featuring cutlery by Auklett and straw and cleaner by Jungle Culture. 
5.  A stunning mini-irregular shaped plant pot handmade by Amanda at Misshandled. 
6.  A gorgeous acai bead bracelet in sunshine yellow, handmade by Ilana and Amalia at Pretty Pink Eco Jewellery.
7.  A delicious handpainted sea salt and coconut snack bar crafted by Tilly at Tilly Wonka. 
8.  A yummy bag of popcorn coated in crushed strawberries and cream sweets, hand popped in the UK by Retrocorn. 
'Autumn Walks & Wellness' - Autumn 2021
The 'Autumn Walks & Wellness' box contained 8 gorgeous gifts.  With a retail value of over £124, this box featured:
1.  A luxury handcrafted Cornish high fragrance diffuser by The Cove Bathing Co. 
2.  A revitalising organic pink pepper luxury bath & shower gel by Nereus London. 
3.  A soothing peppermint foot soak by Dajan Organics. 
4.  A nourishing organic peppermint foot balm by Dajan Organics. 
5.  A pampering organic clay & hibiscus face mask by Naturally Wright. 
6.  An organic lavender & flaxseed eye pillow, handmade exclusively for The Pomelo Box by Linda at LW. 
7.  A gorgeous limited edition 'Wild Ideas' journal by Bea and Wild Designs. 
8.  An indulgent bag of 'brown butter & nibs' handmade chocolate by Choc Amor.