Cornwall. A spectacular coastline, picturesque landscapes and the home of beautiful beaches. Steeped in rich history, famous for its surfing, sailing, clifftop walks and gorgeous gardens, Cornwall is undoubtedly a magical place to visit. When you're not taking in the stunning scenery, there's always the option of a bit of retail therapy – and Cornwall is the place to give it to you!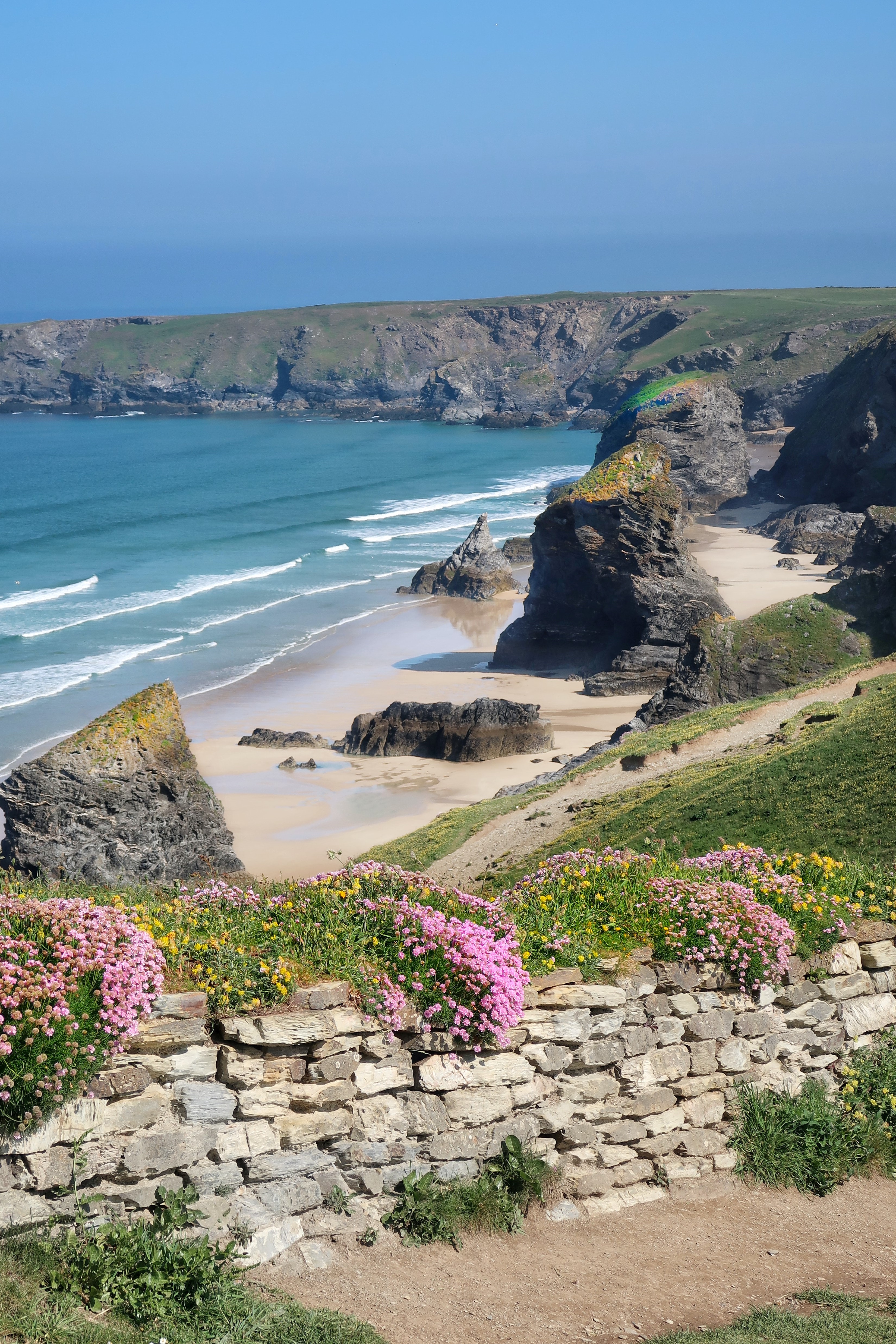 Aside from the usual high street shops, there are plenty of unique little independent shops and boutiques offering an abundance of treasures.
The pandemic gave rise to many new businesses (The Pomelo Box being one of them!). However, somewhere in the depths of Cornwall, emerged two sisters who decided to take on the world.
Zoe and Bianca, the founders of Naturally Wright and The Cove Bathing Co. respectively, set up their businesses at a time when the world was thrown into disarray. Their tenacity has led to success in a very short time.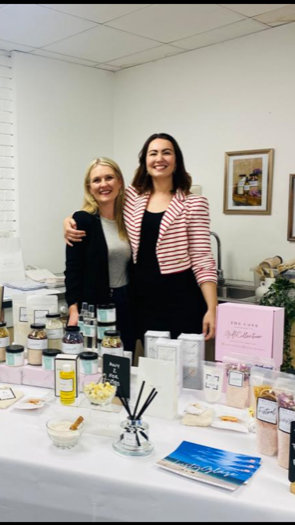 Whilst researching for my autumn box, I came across both of their websites and immediately decided to include a product from each. It was only a short time after that Bianca informed me that they were sisters. Intrigued, I decided I wanted to know more about this family affair.
I spoke with Zoe and Bianca to find out more about their journey into the world of business and their exciting plans for the future:
How did your journey into the world of business begin?
Zoe: My journey into Naturally Wright started with my own skin concerns. I have acne rosacea since having children and spent a lot of time and money finding and trying products from the large stores with no success in improving my skin. Over lockdown I had more time and decided to research actual specific ingredients that could help me as well as my teenage children and began experimenting with our own recipes.
Once we had been using the products a while and saw the changes we were experiencing, I decided to get them tested and my sister stocked them on her business website.
It was the response to this by her customers that encouraged me to start my business.
Bianca: I've always loved business. I've never considered myself a creative but the idea of creating something from scratch excites me. I love watching the planning process turn into something tangible. I started The Cove after feeling unfulfilled in my role as a Construction Project Manager. I felt there were aspects I could do better and started to realise I was not made for the 9-5 life.
You both set up a business together initially, what led to your separation and why?
Zoe: My sister, Bianca and I didn't set up together as such, but I supplied white labelled products to her. We now come together and collaborate sometimes as well as support each other in any way we can, as sisters but also as fellow small business owners.
Bianca: I started The Cove independently and launched in March this year. I then encouraged Zoe to pursue her desire to create a Skin Care Range and offered her to initially sell through my website to gain her confidence. Her products were instantly popular with my customers and received amazing reviews which encouraged her to launch her own website. Zoe still supplies her Moisturising Bars and Face Masks to me.
You're both building your brands based on your ethical values. How are these values helping you to make a difference?
Zoe: I believe strongly in doing as much as possible for the environment and have many plans for the future of the business to improve our sustainability. We currently only use recycled and recyclable packaging as well as having no waste on some of our products. We also only use vegan friendly, organic, and completely natural ingredients.
Bianca: I am currently studying a MSc in Environmental Consultancy and this definitely defines and leads my business every day. The Environment is the main consideration to me personally and the business has allowed me to make a bigger impact than I could do personally. We plant two trees for every order and I'm extremely proud of this! We also donate to local charities and aim to be kind in all our operations to our customers and the planet.
As sisters, is there any sibling rivalry?
Zoe: Running and building a small business is scary and intimidating, you are completely exposing yourself and can become very vulnerable, however, I have been fortunate enough to have my sister who is in a similar position but further along the process, so am able to discuss and receive honest opinions and encouragement every step of the way.
Both businesses are based around self-care and therefore complement and promote each other. This also gives us the advantage of collaborating and bringing them together at times. As far as rivalry goes, I have to say there is none, we are very different in our approaches and even some of our goals, however, that's not to say she doesn't always outdo me when it's her turn to bring the coffee and pastries.
Bianca: Absolutely not. I utterly adore my sister and admire her in every way. I think what works so well is we are pursuing different goals and have different interests. Zoe is building a very personal brand which helps other women with skin conditions which is very close to her heart. I on the other hand am passionate about gifting and providing a moment of calm to hectic lives! (Mine included!) Our businesses complement each other and I love how we can cross-promote our products and genuinely love each other's collections.
How has the beauty of Cornwall inspired you?
Bianca: My entire range is inspired by the Cornish Coast. It's the way you feel when you arrive at the coast and you instantly take a deep breath and let go of the day. I wanted my collection to provoke the same sense of relaxation and I just love how that feeling can also reconnect people to Cornwall, wherever they are in the world.
You both achieved success in such a short space of time. How does this feel and how has this impacted your daily lives?
Zoe: The response to my products has been quite overwhelming, to say the least. When I started this business, I just wanted to be able to provide a product that could help some people to feel more confident in their skin when facing the world but could never have imagined the positive impact they have already received. I have been a stay-at-home mum for the past 14 years which began to become my only identity. Now that my children are becoming more independent, without realising it, I needed something to enable me to grow and achieve again whilst still fulfilling my role as a mum. Naturally Wright has provided this and so much more to me personally.
Bianca: Utterly amazing! I wake up every day with an immense feeling of gratitude that people are choosing The Cove and enjoying the products. I have big plans for the brand so sometimes there are some sleepless nights but overall, I have never felt so authentically me so I'm generally much happier.
Who/what has been your biggest inspiration?
Our mum is still the single biggest inspiration in our life. She went through so much and still kept the most positive attitude. The amount she has achieved is truly outstanding. She's also our number 1 fan and will support us through any and all of our endeavours.
What makes your products unique?
Zoe: My products are unique in that they were designed with the intention to be a part of my personal skin routine. I also try to find the most beneficial ingredients and make them the most prominent ingredient in the recipe. I found a lot of 'off the shelf' products which contained a specific ingredient I was researching to contain the smallest amount therefore prolonging any benefits you may receive.
Bianca: I believe it is everything surrounding the products that I strive to make unique. The products themself are completely natural and by nature are simplistic in the best way. Our values as a company and the interaction with our customers is what I want to stand out for. I want every one of our customers to feel valued because they truly are allowing me to build my dream company.
Which of your products (and each other's products) do you prefer the most?
Zoe: My favourite product within the Naturally Wright range is the daily cleanser. Although the clay mask helped my skin massively, I wanted to take the benefits of the mask and incorporate it into a product which can be used as part of the daily skin routine.
The Cove Bathing Co, bath and body oil is most definitely my favourite product that my sister makes. I use it daily and am now lost without it, in fact, I have been known to "borrow" a bottle or two whenever I'm running low.
Bianca: My favourite product of mine is my Bath and Body Oils. I actually made this for myself and then decided to sell them. From Zoe is her Face Mask, especially the Clay and Oats. It's beautiful and gentle and I use it all the time!
What's the best advice you have been given and would give out yourself?
Zoe: The best advice I have been given was by my sister, Bianca, and was that I am my only obstacle in this journey. This is also the same advice I would give any others about to start the process of having a small business.
Bianca: Don't have a Plan B! I know this sounds risky but that's the beauty of it. Plan then work, work, work to make Plan A a reality. You have to be all in.
What's next for you both? Do you have any other exciting products in the pipeline?
Zoe: Every product in the range starts with myself and others close to me personally using them, to ensure the benefits are maximised and that the products actually work, before they are sent to be tested. We have a few exciting ideas in the pipeline at the moment and are hoping to launch them as soon as they are ready.
Bianca: We just finished a craft fayre together which was a huge success and I loved working together so I hope we can do this more often in the new year. The Cove has several new products in testing which we are really excited about, which includes increasing our Home range!
Our 'Autumn Walks & Wellness' box featured Zoe's Hibiscus Clay Face Mask and Bianca's Mor Luxury Diffuser.
Head over to both their websites, to check out their amazing range of natural skincare, wellness & home products:
Follow Naturally Wright on Instagram @nat_urallywright
Follow The Cove Bathing Co. on Instagram @thecovebathing